The counseling relationship is a unique one, accompanied by certain rights, responsibilities and protections. For those considering counseling, this section provides an overview of the counseling process: what to expect from counseling, what your role is in counseling and what the guidelines are concerning confidentiality. Check out the UW Counseling Center Informed Consent, Notice of Privacy Practices, and Surprise Billing Protection. If you have any questions or concerns, please reach out to the counseling center.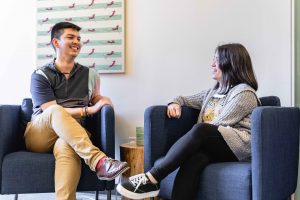 Counseling process expectations
You can expect to meet with someone who is interested in listening to your concerns and in helping you develop a better understanding of them so that you may deal with them more easily and effectively. Your counselor will take you seriously and be willing to openly discuss anything you wish to discuss. Please feel free to ask your therapist questions about themselves, if this feels important to you.
Because counselors have different strategies as to how to assist you, they may differ on how much talking they do in sessions, whether they ask you to do homework and their focus of discussion. If you have any questions about your therapy, by all means, ask. Counselors have no magical skills or knowledge and will be unable to solve your problems directly for you. Your counselor will want to work with you and will support you in what you are capable of doing for yourself.
Your counselor will maintain strict confidentiality except under unusual circumstances. If you have any questions about the limits of confidentiality, please bring them up with your counselor.
For counselors, informed consent is a fundamental component of respect between counselors and clients. It involves counselors providing clear and comprehensive information to clients about the counseling process, its objectives, confidentiality policies, and the potential methods used. Through informed consent, clients are enabled to make informed choices about their therapeutic journey, fostering a collaborative and client-centered approach to counseling. 
Within the context of the therapeutic relationship (the professional relationship between the student/client and the therapist), you have certain responsibilities that when adhered to, may help you work more effectively toward meeting your therapeutic goals.   These responsibilities include:
Attending your scheduled appointments.
If you are not able to attend, please let your counselor or the Counseling Center front desk staff know with at least 24 hours' notice, so that someone else can use that appointment time.
Talking openly and honestly with your counselor about your concerns.
You have certain rights of confidentiality and you are encouraged to discuss these with your counselor if you are unclear about them.
Your counselor may ask you to try a new behavior, adapt your thinking, better manage your emotional responses or experiment with a different approach to your concerns.  You are encouraged to try and practice these new ideas and approaches outside of the counseling session.
Please communicate with your counselor about any improvements (or not) you become aware of regarding your concerns.  Your feedback is important and can help your counselor adapt her/his approach to better meet your needs.