Husky Health & Well-Being
April 7, 2022
Talk the Talk, Walk the Walk
A Look at How the Resilience Lab Puts Core Values into Practice
3/23/2022 – In 2019, Graduate Student Assistant Sasha Duttchoudhury conducted a series of interviews that investigated how the UWRL as an organization implemented its values and frameworks internally. 
A few weeks ago, we wrote about the importance of understanding and living your values as a valuable tool to guide your daily life and the function of this practice in the classroom and workplace. At the Resilience Lab, we understand that the culture we foster, built upon the strongly-held beliefs we share, is an important mechanism to the work that we do. Driven partly by curiosity, partly by an interest in furthering our work at the Lab, Sasha Duttchoudhury used a series of semi-structured interviews with Lab members to examine how the UWRL embodies our tenets for well-being. 
The Resilience Lab highlighted the strain placed on mental health systems at campuses across the country at the peak of the pandemic, publishing the Well-Being for Life and Learning Guidebook as a resource for instructors who are interested in fostering inclusive and supportive learning environments.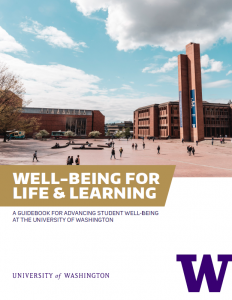 Distilled into four categories – Teaching for Equity and Access, Nurturing Connection, Building Resilience Coping Skills, and Connecting to the Environment – the Guidebook was the product of cross-disciplinary research and input from instructors, staff, and student across the tri-campus UW community. Even though the Guidebook is intended for the classroom, the UW Resilience Lab believes that these are foundations for any organization to build a culture of well-being, especially as our staff is largely made up of students.

Interviewing seven members of the Lab, Duttchoudhury's research underscores just how important it is for the Resilience Lab to do this kind of reflection on a consistent basis. Not only can we feel good about what we're asking others to take part in, having done it ourselves, but we're also able to take stock of how our programs reflect our values and the needs of our communities. Instead of suddenly realizing that what we're doing is no longer effective, the Resilience Lab can sense these changes in advance, making calculated reinterpretations of our work and reframing our organizational commitments. Our organization is comprised of people, whose well-being dictate the Lab's welfare and whose understanding of our work shapes the effect our programs have on the community: "asking the lab to reflect on how they are creating a culture of well-being is creating a culture of well-being," says one respondent. 


What did we find out?
Overall, all participants (a majority of whom are students) shared experiences of "improved well-being" from their engagement with the Resilience Lab, with two key factors playing major roles in these responses: organizational centering of individual needs and Lab relationships modeled by Lab leadership. Organized by each of the four foundations established in the Well-Being for Life and Learning Guidebook, respondents highlighted the areas in which the Lab was well-established, and the areas that they felt needed improvement. 
Equity and Access: Participants covered authenticity, internal and external equity, the role of dissent in equity work, values alignment, the connections between anti-oppression and well-being, Lab members' identities as strengths, and how the Lab has influenced their own sense of equity and well-being. Lab members spoke to the role of oppression in preventing folks from experiencing well-being, and how taking care of ourselves allows us to do the work of well-being.  
Nurturing Connection: Where more traditional constructs around "professionalism" have often led colleagues to compartmentalize what is personal vs. what is professional, relations within the Lab allowed for vulnerability, openness, and support. Additionally, the concepts of a "community of care" and "collective wellness" (especially in the context of racial trauma, resilience, and healing) arose in interviews.  
Resilience Coping: Lab members spoke about integrating mindfulness and well-being practices learned through Lab engagement. They also indicated increased awareness and commitment to their own well0being that was supported by the Lab community.  
Connecting to the Environment: While the natural environment did not show up in interviews, staff noted that the lack of shared physical space during the COVID-19 pandemic was a hinderance to teamwork.  
Leadership: Lab leadership was highlighted in multiple interviews; all interviews spoke to the kind of care that was felt from Lab leadership, and how this set a model for what relationships in the Lab should look like. The adaptive leadership style embodied by Lab leadership made space for dissent as well as contributions of all capacities.  
What does this mean for the Resilience Lab?
Based on these interviews, the Lab creates an atmosphere of belonging, tending to the connectedness that members experience with each other as colleagues and as whole people.  The Lab supports members as they build stronger connections within themselves, increase their self-awareness, and develop a sense of purpose. Additionally, Lab members model behaviors and attitudes that reflect (what we consider to be) the four cornerstones of resilience: mindfulness, growth mindset, gratitude, and self-compassion.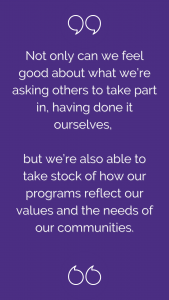 However, while the Lab strives for equity in its workplace, it still operates within a larger system of higher education that has not been designed with all of us in mind. Lab members still feel the effects of structural oppression that have an impact on how they show up to their daily work, where dominant cultural norms and values still hold power. The Resilience Lab tries to create a community of support to move through these challenges, examining and re-examining how our organizational norms can support diversity, inclusion, and anti-oppressive practices. In addition, the pandemic's disruption of a consistent workspace has tested the staff's ability to maintain connection – with each other, and with the work.
Duttchoudhury's analysis recommends the expansion of our "Equity and Access" efforts and the prioritization of work that encourages "Connection with the Environment", though these endeavors are not mutually exclusive: 
"There was significant overlap between the four Foundations; for example, participants spoke to two or more Foundations in the same response. This implies that the Foundations are permeable or intertwined and cannot be thought of in isolation. Working at the intersection of these foundations may offer the ease in engagement and improvement." 
Ultimately, while members of the Resilience Lab are not immune to the push-and-pull of daily life and structural inequities, the support offered by the Lab serves as the building blocks of well-being. Taking strides to build a wellness-focused mindset at the UW has impacted, not only the programs and initiatives we create, but the culture we foster for our little team.